The 9×18mm Makarov (designated 9mm Makarov by the C.I.P. and often called 9×18mm PM) is a Russian pistol and submachine gun cartridge. During the latter half of the 20th Century it was a standard military pistol cartridge of the Soviet Union and the Eastern Bloc, analogous to the 9×19mm Parabellum in NATO and Western military use.
During the Second World War and the early Cold War, the 7.62×25mm Tokarev was the standard automatic pistol round for the Soviet Union and its satellites in Eastern Europe. This ammunition is still in use by many of these countries today. During the war the Red Army had found a few shortcomings of its 7.62mm TT-33 pistol, one of which was a tendency to inadvertently drop its magazine while in operation. The army wanted something that was lighter, with a heel release instead of a button and different ammunition. A direct blowback design was chosen for the pistol's operation, since it would be quick and cheap to manufacture, as well as accurate, due to the fixed barrel design allowed by direct blowback operation.
The 9×18mm Makarov round was designed by B.V. Semin in 1946, and was intended to be a relatively powerful round with modest bolt thrust that could function safely in a simple or direct blowback pistol. It was based on the 9×18mm Ultra cartridge which was developed in 1936 by Gustav Genschow & Co. for the German Luftwaffe, as a more powerful alternative to the 9×17mm used in the Walther PP, also a simple blowback design pistol. Nikolay Fyodorovich Makarov went on to design the Makarov PM pistol around the 9×18mm Makarov round in 1948.
The Soviet military required that their ammunition should be incompatible with NA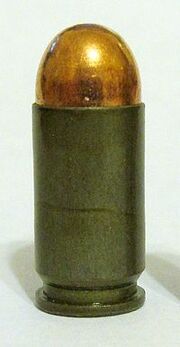 TO firearms, so that in the event of armed conflict a foreign power would be unable to use captured Soviet ammunition supplies. 9×18mm Makarov ammunition uses a larger diameter bullet than other common 9mm rounds, measuring 9.27mm (0.365 in), compared with 9.017mm (0.355 inches) for 9mm Parabellum. After its introduction in 1951, the 9×18mm Makarov round spread throughout the militaries of Eastern Bloc nations.
Ad blocker interference detected!
Wikia is a free-to-use site that makes money from advertising. We have a modified experience for viewers using ad blockers

Wikia is not accessible if you've made further modifications. Remove the custom ad blocker rule(s) and the page will load as expected.