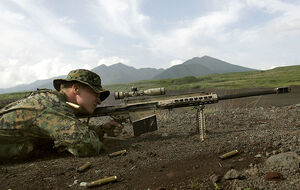 The M82 is a recoil-operated, semi-automatic anti-materiel rifle developed by the American Barrett Firearms Manufacturing company. A heavy SASR (Special Application Scoped Rifle), it is used by many units and armies around the world. It is also called the "Light Fifty" for its .50 caliber BMG chambering. The weapon is found in two variants, the original M82A1 (and A3) and the bullpup M82A2. The M82A2 is no longer manufactured, though the XM500 can be seen as its successor.
Date: 1982
Origin: USA
Weight: 14.0KG (30.9LB)
Barrel: 518mm (73.7cm)
Caliber: .50 Cal BMG (Ball, Tracer, High Explosive, Incendiary, Armour-Piercing, Sabote.)
The M82 has been labeled as the most powerful Sniper Rifle in the world. It can destroy a small vehicle with the right Ammunition.
Ad blocker interference detected!
Wikia is a free-to-use site that makes money from advertising. We have a modified experience for viewers using ad blockers

Wikia is not accessible if you've made further modifications. Remove the custom ad blocker rule(s) and the page will load as expected.