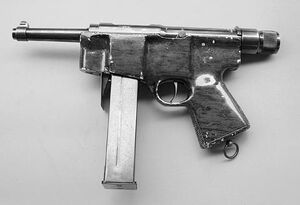 The Hafdasa C-4 is a submachine gun of Argentine origin and is chambered in 9 mm Luger and .45 ACP calibres. It has an aluminium lower receiver and is fed from a wide 50 round box magazine for 9x19mm rounds and 40 round magaine for the .45 ACP rounds. Its magazine insert has a dust cover that folds open forward to form a grip shrouding the front of the magazines. The C-4 was available with a fixed wooden stock, folding metal stock and also came as a machine pistol.
Originally it designed for crews of armored vehicles.
The Native C2 was based on the model rifle 'ballester rigaud c1', of HAFDASA, the one that at the same time, was based on the famous rifle Beretta Model 1918, that were used by, among others, the police of the capital. That rifle itself chambered in the calibers 9mm and .45 ACP. With the same criterion of the gun 'native', HAFDASA manufacture from the year 38, the rifles 'c2', in calibers 9mm and .45 ACP. Its framework this built in foundry of aluminum, and painted in green, black, or brown colors as this. They were of origin, semiautomatic, although it is known that some they were modified in manufactures for automatic fire. Those of caliber 9mm charge 50 cartridges, while the. 45 charge 40. A great capacity, above all keeping in mind that the year is 1939. Besides the cartridges are found in a space reduced, due to its double dockhand and pivotante, that permits quickly to use an or another column. The lodging of the dockhand has a generous opening, and upon leaving the dockhand in its central position, impedes the shot of the weapon. As all the weapons manufactured by HAFDASA, is a practically unbreakable and strong weapon, though as those of its epoch, quite heavy.
References
Edit