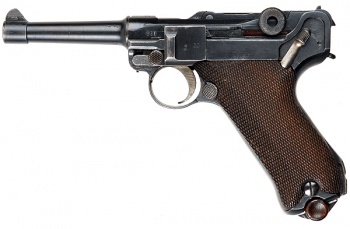 A handgun is a small firearm that can be fired with one hand. The most popular caliber for a handgun is the 9mm Parabellum, first used in the Luger P08 (Luger Pistole 08) or also known as Luger p'o8. The luger is a German sidearm during Worldwar II. The Luger P08 firstly introduced to germany during 1908s and was Constructed in Austria by Georg J. Luger (1849 - 1923).
Ad blocker interference detected!
Wikia is a free-to-use site that makes money from advertising. We have a modified experience for viewers using ad blockers

Wikia is not accessible if you've made further modifications. Remove the custom ad blocker rule(s) and the page will load as expected.