The Heckler & Koch G11 is a non-production prototype assault rifle developed during the late 1960s, 1970s and 1980s by Gesellschaft für Hülsenlose Gewehrsysteme (GSHG) (German for "Corporation for Caseless Rifle Systems"), a conglomeration of companies headed by firearm manufacturer Heckler & Koch (mechanical engineering and weapon design), Dynamit Nobel (propellant composition and projectile design), and Hensoldt Wetzlar (target identification and optic systems). The rifle is noted for its use of caseless ammunition.
It was primarily a project of West Germany, though it was also of significance to the other NATO countries as well. In particular, versions of the G11 were included in the U.S. Advanced Combat Rifle program.
In 1990, H&K finished the development of the G11, intended for the Bundeswehr and other NATO partners. Although the weapon was a technical success, it never entered full production due to the political changes of German reunification and lack of procurement contract.[2] Only 1000 units were ever produced, some of which made their way into the hands of the Bundeswehr. Ultimately, the German armed forces replaced the G3 with the G36.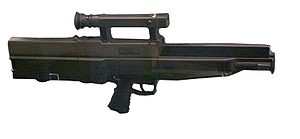 Ad blocker interference detected!
Wikia is a free-to-use site that makes money from advertising. We have a modified experience for viewers using ad blockers

Wikia is not accessible if you've made further modifications. Remove the custom ad blocker rule(s) and the page will load as expected.