The 
P7
 is a 
German
9mm
semi-automatic pistol
 designed by Helmut Weldle and produced by 
Heckler & Koch GmbH
 (H&K) of 
Oberndorf am Neckar
. It was revealed to the public for the first time in 1976 as the 
PSP
 (
Polizei-Selbstlade-Pistole
—"police self-loading pistol"). 
The decision to equip
West German
police with an advanced 9mm service pistol and replace existing
7.65mm
-caliber weapons was prompted after the
1972 Munich Olympics Massacre
.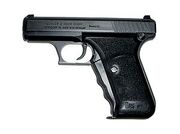 The new firearm was to meet the following requirements: chamber the
9x19mm Parabellum
cartridge, weigh no more than 1,000 g (35 oz), the pistol's dimensions would not exceed 180 x 130 x 34 mm, it should have a muzzle energy of no less than 500
J
and a service life of at least 10,000 rounds. The pistol was also to be fully ambidextrous, safe to carry with a loaded chamber and able to be quickly drawn and ready to fire instantly.
As a result of a competitive bid the German police forces selected three different pistols into service: the
Swiss
SIG-Sauer P225
(designated the P6) and two German designs—the P7 (officially designated the PSP) and the
Walther P5
.
Series production of the P7 started in 1979. Shortly after, the pistol was adopted by the German Federal Police's counter-terrorism unit (GSG 9) and the German Army's special forces formations. The P7 was produced primarily by H&K but also under license by the Greekdefense firm Hellenic Arms Industry as well as in Mexico by the Departamento de Industria Militar (DIM), as a sidearm for general officers and staff. The pistol was also exported to several countries.
Ad blocker interference detected!
Wikia is a free-to-use site that makes money from advertising. We have a modified experience for viewers using ad blockers

Wikia is not accessible if you've made further modifications. Remove the custom ad blocker rule(s) and the page will load as expected.