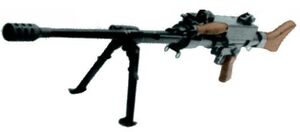 The Mekanika Uirapuru is a General Purpose Machine Gun of Brazilian origin and is chambered in the 7.62 x 51 mm NATO caliber.
Standard fare for the Brazilian armed forces, the Uirapuru features design simplicity and ease of operation. This home-grown GPMG replaced the FN MAG. Brazil's arms industry may have been slow in getting started, but today it is a major domestic consumer and exporter of weapons systems, as in aircraft, fighting vehicles and small arms, light weapons like the Uirapuru GPMG in 7.62mm NATO.
References
Edit
Ad blocker interference detected!
Wikia is a free-to-use site that makes money from advertising. We have a modified experience for viewers using ad blockers

Wikia is not accessible if you've made further modifications. Remove the custom ad blocker rule(s) and the page will load as expected.