The APB (
Avtomaticheskij Pistolet Besshumnyj
, meaning automatic silenced pistol) version was a version of the APS optimized for silent operations. Developed in the early 1970s by A.S. Neugodov (А.С. Неугодов) under the factory name AO-44, it was officially adopted in 1972 under the service name APB and given 
GRAU index
 6P13. Muzzle velocity reportedly dropped to 290 m/s in this variant.
 Instead of the holster-stock of the APS, the APB comes with a detachable stock made of steel wire. Its barrel is longer than that of the APS; it protrudes from the slide and is threaded for the attachment of a sound suppressor. The barrel itself is also wrapped around by an integrated expansion chamber, in which gasses escape from holes in the barrel. When not in use, the detachable sound suppressor can be clipped to the s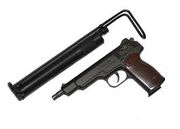 tock.
Ad blocker interference detected!
Wikia is a free-to-use site that makes money from advertising. We have a modified experience for viewers using ad blockers

Wikia is not accessible if you've made further modifications. Remove the custom ad blocker rule(s) and the page will load as expected.